Jun 23, 2017
On Friday 23rd of June the pusher tug "Wenna" was launched at the Thecla Bodewes Shipyard in Kampen in the presence of the Silverburn Group team, clients, friends and their families
The Wenna is the first of a series of three new concept shallow draft pusher tugs designed and built jointly between ourselves and the yard targeting the requirements of Silverburn as Owners and with considerable input from and consideration to the needs of our major clients in the Oil and Heavy-lift sectors.
The tug uses its 3500 hp power to combine pushing, towing and anchor handling capabilities. The crane can handle upto 3150 kg with a reach of 16.54 metres serving a rear deck space with a capacity for up to 9 x 10ft containers. The Wenna is equipped with a double drum waterfall towing winch with a 35 ton, 750 meter capacity towing drum and a 500 meter anchor handling drum. She has towing pins, karm fork and a a stern roller. This series of tugs will primarily be utilised inside the Russian River Water ways and in the Caspian Sea for offshore support activities, seagoing towing and inland push-and-tow operations however  should they be required elsewhere they are classed for world-wide operation so they can be delivered anywhere upon request.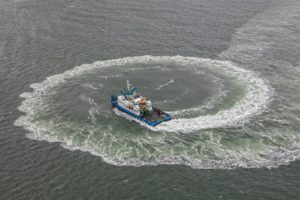 The first tug will be delivered in August 2017 while her two sisterships will be delivered in March & September 2018 respectively.
The spectacular launch of the "Wenna" was effected with the assistance of a unique system called the 'Friese Hellingsysteem' where the ship glides freely into the water once the cross-skewed wedges were removed.
Making a splash in several ways, owned and operated by the Silverburn Group, the Wenna was not only launched unconventionally into the water, she will be the first newbuild ship to be added to the Russian river tugboat tonnage in more than 25 years and will be the first vessel incorporating hoisting wheelhouse that sails the Caspian Sea.
Her first splash however, was indeed truly awesome!
Read also